Belleza Femenina (Feminine Beauty) is a business dedicated to commercialization and distribution of shpaewear/girdles in the U.S. For over 15 years we have served the city of Miami and helped our clients achieve their perfect figure through the use of our products. Our wide variety of products allows us to satisfy both the needs and wants of our market and most importantly our customers. This knowledge has allowed us to position ourselves as the leader in this local and national market.
We offer products that help mold and shape any body shape or size into that of a goddess. Our girdles/undergarments fall into several categories that are sure to suit your needs. Ranging from surgical, maternity, post partum, control, compression, sporty and most importantly to look and feel incredible.
Apart from our online store we have a location in the city of Miami where you can come and experience for yourself all the products we offer and how they can improve your figure and your life. Qualified, friendly and knowledgeable personnel are there to help you out with any questions you may have and help you with your purchase. With thousands of girdles/undergarments to choose from you are sure to find what you are looking for and even more.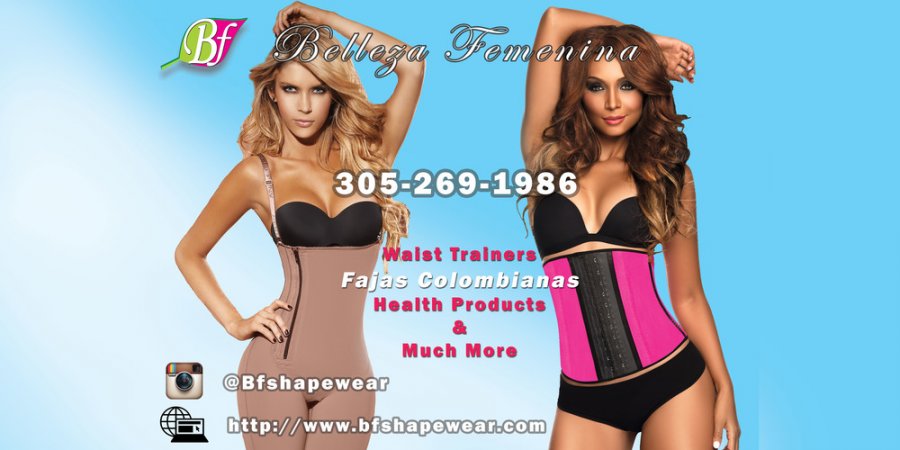 Belleza Femenina es una empresa dedicada a la comercialización y distribución de fajas en los Estados Unidos desde el año 2002. A través de la diversificación de nuestros productos buscamos satisfacer las necesidades del mercado y especialmente de nuestros clientes, lo que nos ha permitido posicionarnos como una de las más importantes dentro del mercado local y nacional.
Ofrecemos productos moldeadores dentro de las líneas: quirúrgicas, maternidad y post parto, control, compresión y deportivas.
Además de nuestra tienda virtual, contamos con un local comercial convenientemente ubicado en la ciudad de Miami donde personal calificado puede orientarlo en su búsqueda o necesidad.